7 Playful Ways to Teach Alphabet Letters for Kids + FREE Printables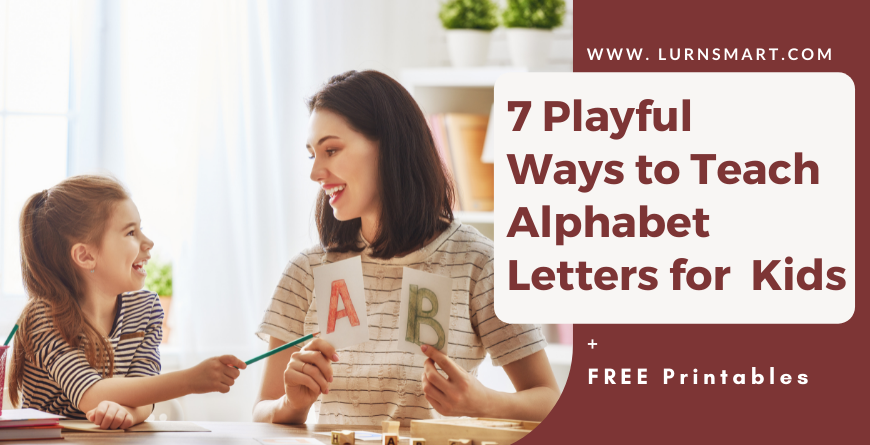 If you are wondering how to teach alphabet letters for kids, you are not alone!
Recently, a dad asked me how to teach his 3-year-old daughter the letters of the alphabet. He told me that he tried everything but his daughter was too playful and was not ready to learn.  
I was happy to share fun ways to teach the alphabet letters. But, most importantly, I had to explain to him how, at this age, kids learn only through play and not in the absence of it.   
In this post, I'm going to share with you those fun ways that I shared with him. And also, some FREE alphabet printables so you too can teach the alphabet letters to your child in a fun, playful way. 
7 Playful Ways to Teach Alphabet Letters for Kids:
Here are 7 playful ways to get your little one to enjoy learning the letters of the alphabet: 
1. ALPHABET SONG: 
Songs make learning simple and fun! 
When it comes to learning the names of the alphabet, the easiest way is to sing the alphabet song.
There are tons of alphabet songs on YouTube but our favorite is See it, say it, sign it by Jack Hartmann.
We love this song because, along with teaching the letter names, this song also teaches children the letter sounds. 
So sing along and have a fun time with your child!
Trust me, once your child learns the letter names aurally, mapping the names with their respective shapes will become simple.
2. ABC BOOKS:
When it comes to teaching the English alphabet, ABC books are a great place to start.
The colorful illustrations and story make learning the letters of the alphabet fun and interesting!
When our son was little, one of the very first board books that we bought for him was Bright Baby's ABC board book.
Apart from looking at it and talking to it, he literally enjoyed chewing on it. It was such a sight to see 😉
Apart from Bright Baby's ABC board book, we also enjoyed reading a lot of alphabet books.
I have listed out our favorite alphabet books in my blog post 20 Must-Read Children's ABC Books List. So make sure you check it out!
3. ALPHABET CHARTS AND STICKERS: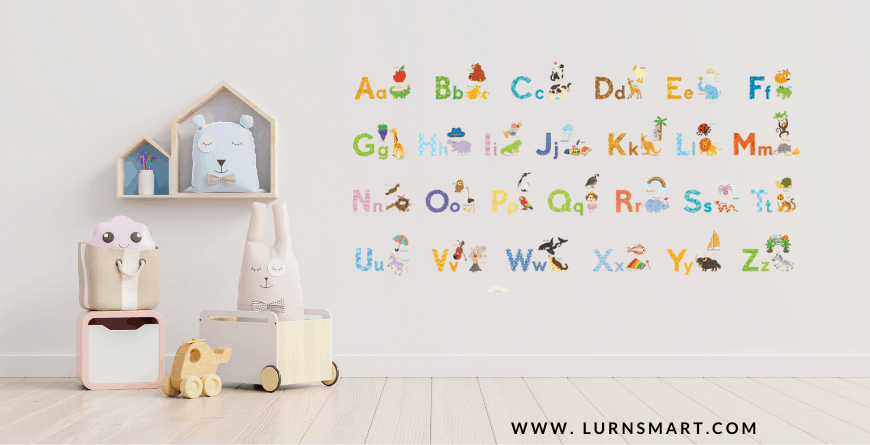 Another interesting way to teach alphabet letters for kids is to put up alphabet charts and alphabet stickers.  
But instead of just putting them up on the wall and forgetting about them completely, I suggest, you talk about the letters or sing the alphabet song while pointing to the letters. 
When our son was little, we put up some cool alphabet stickers near his crib and he used to enjoy looking at them.
Before going to bed, we would say goodnight to a letter or two and sometimes sing the alphabet song while pointing to the letters. This helped him learn the names and the shapes of the letters organically!
So put up alphabet stickers and alphabet charts and turn your child's room into a little alphabet wonderland! 
4. ALPHABET PUZZLES: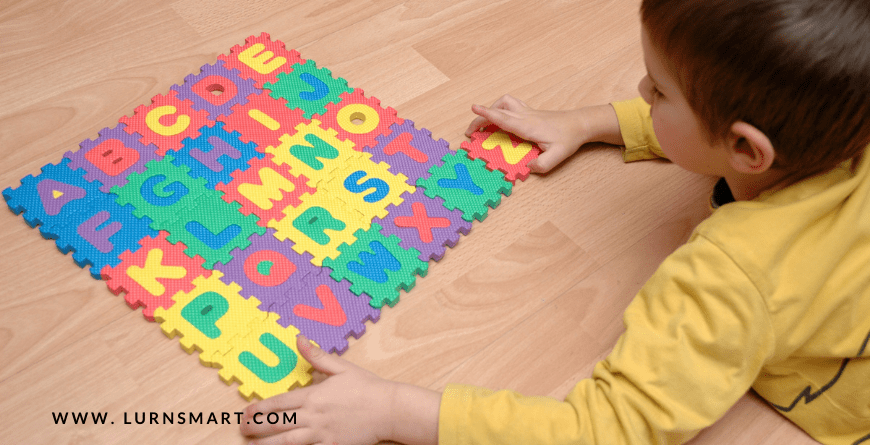 Alphabet puzzles are a great way to practice recognizing the names and shapes of the letters in a fun hands-on way!
What I like about them is that they also help build other skills such as visual discrimination skills, fine motor skills, and hand-eye coordination. 
When our son was little, we got him the Melissa & Doug Alphabet Puzzle.
I highly recommend this puzzle because the little pegs make it easy for those tiny hands to place the pieces in the right spots instead of getting frustrated in the process of doing so. 
5. FUN ACTIVITIES USING MAGNETIC LETTERS: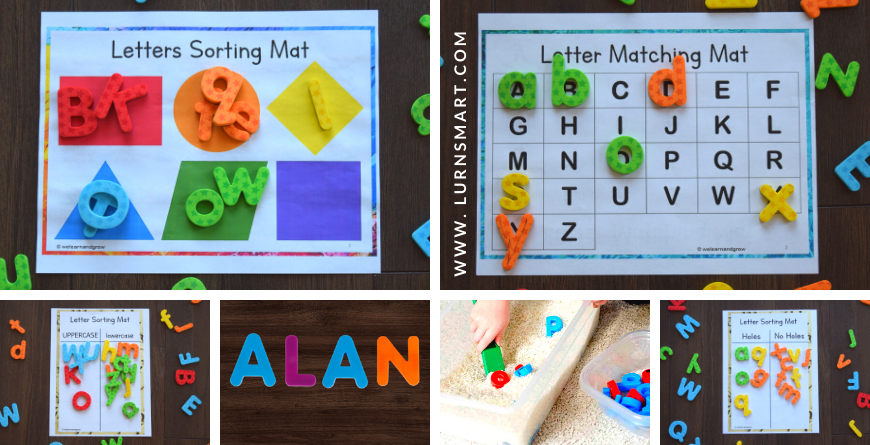 Magnetic letters are my favorite because you can use them to do a wide range of activities with kids!
Here are a few fun things that you can do using magnetic letters to teach the alphabet letters for kids:
a. LETTER SORTING:
Have your child sort the magnetic letters into uppercase and lowercase or letters with holes and letters with no holes or simply sort the letters by color.  
b. LETTER SEQUENCING:
Have your child arrange the magnetic letters in the right sequence. 
c. LEARN TO SPELL NAMES:
Help your child learn how to put together his or her name and also the names of family members and friends. 
d. SENSORY BINS:
Sensory bins make learning the letters of the alphabet fun and interesting!
Simply fill up a bin with lentils or rice. Hide the magnetic letters and let your child dig them up and then line them in the right sequence.
Check out more alphabet sensory bins ideas at – https://littlebinsforlittlehands.com/alphabet-sensory-play/
By the way, you can download our FREE Alphabet Sorting and Matching Mats to do the above alphabet sorting and sequencing activities!
6. FUN GAMES USING ALPHABET FLASHCARDS:
Alphabet Flashcards are traditionally used for rote learning but here are some creative ways to use alphabet flashcards to make learning fun for your child. 
a. MATCH & MEMORY:
To play this game, use two sets of alphabet flashcards.
Now pick 5 letters you want your child to learn and place the flashcards face up or face down and take turns finding the pair. 
b. HOW MANY CAN I?
There is something about a timer that gets kids excited!
So pile up the flashcards and set the timer to one minute and see how many letters your child can correctly identify before the timer goes out.
If your child misses one, put the card back in the pile and just continue with the game! 
c. HOP & PICK:
Kids love to move!
When learning includes hopping, skipping, and jumping, they thoroughly enjoy it!
So simply spread out the flashcards all over the floor. Call out a letter and let your child hop to the letter and pick it up. Do the same for the rest of the letters. 
d. ALPHABET RACE:
Alphabet Race is a fun game to learn the letters in alphabetical order! 
Spread out the flashcards on the floor. Have your child start at letter A and then race to pick up B and continue through the alphabet.
You can time this game to see how soon your child can make it to Z. 
e. ALPHABET PARKING LOT:
If you have a vehicle lover, this game is a must-try!
To play this game, label your child's toy cars A, B, C, and so on using dot stickers. Using chalk draw a parking lot and place one alphabet flashcard on each parking spot.
Now call out a letter and let your child pick the right car and race to the correct parking spot.
Vrrrrrroooooom!
If you don't have alphabet flashcards, don't worry you can download our FREE Digital Alphabet Flashcards to do these activities!
7. ENGAGING ALPHABET WORKSHEETS:
Engaging worksheets can make learning fun and hands-on!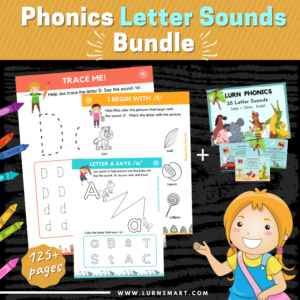 Check out our Phonics Alphabet Bundle. This bundle includes: 
Letter Sounds Stories and Songs Booklet to help your child learn:

The 26 letter names and sounds in the most enjoyable and memorable way possible.

100+ Phonics Worksheets to learn and practice:

Letter recognition
Sound recognition
Letter formation (uppercase and lowercase)
Beginning sounds
You can also use our FREE Alphabet Tracing Cards to help your child practice tracing the letters of the alphabet.
Just print, laminate, and use dry erase markers to use them unlimitedly!
I hope you found the 7 Playful Ways to Teach the Alphabet Letters for Kids and the FREE printables shared in this post useful.
If you did, share this post with your friends coz' sharing is caring 😉
Final Notes:
If you are supporting your child to read at home, then you might want to read my blog post Teach Your Child to Read Using Phonics: The Ultimate 7-Step Guide for step-by-step instructions and all the necessary resources that you might need to help your child read and spell easily!
If you are looking for a kid's reading program, I welcome you to join our LURN Phonics Kid's Reading Program which is a step-by-step parent-led program that is designed to help your child read and spell fluently and efficiently!
To take up this program, you do not need any prior phonics knowledge or teaching experience!
Everything is so simplified for you that all you need is a playful attitude and the enthusiasm to set aside 10-15 minutes a day to teach your child to read!
The best part is, our reading program is multisensorial and fun-based so no more tears while learning to read but lots of fun and play!
So go ahead and check out our LURN Phonics Kid's Reading Program and I cannot wait to help you help your little one become an amazing reader and speller 🙂